Psalm Chapter 76 (KJV) (Unless otherwise cited the scriptures in this devotional are from the King James Version (KJV) of the Bible. It is not chosen for is veracity, but only because it is a public domain version of scripture.)
Context 
This Psalm is a hymn that celebrates "Zion-verse 2" as the place where YHWH's presence is known and experience. Psalm 76 is similar to Psalms 46, 48, 84, 87, 122. God is also discussed as the Warrior King who protects his people from all of their enemies.  The same thread is evident in Psalms.
Psalm 76 clearly celebrates a specific victory over an assault on the City of Jerusalem.  History records such a battle would as attempted by Sennacherib.
(Image credit: Hulton Archive/Getty)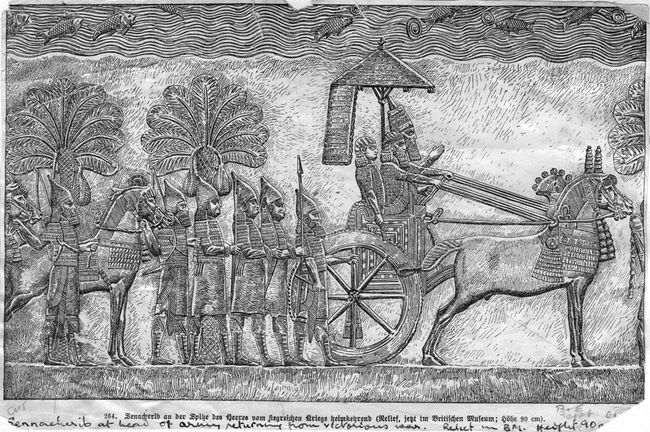 (See 2 Kgs 19; Isa. 37).
God's house is in Jerusalem.
1 In Judah is God known: his name is great in Israel. 2 In Salem [synonymous with Jerusalem] also is his tabernacle and his dwelling place in Zion. 
Right now the news of Prince Harry and the Duchess of Sussex's decision to take the next year to prepare for becoming non-working Royals is ricocheting around the world, we read about a king and a nation that knows who protects and provides for them.  Not only do they know YHWH they also know where YHWH's tabernacle is housed. Many people in this world do not believe that God even exists; however, the nation of Israel-Israel of today, and yesterday believes that He exists.  What does this have to do with Christians today?  For your information, I have included the results of some research on this topic.  Scripture identifies Gentile Christians as "Abraham's seed and heirs to his promise."
Galatians 3:29 "And if ye [be] Christ's, then are ye Abraham's seed, and heirs according to the promise."
We could stretch the fact that God is known by Israel to include all practicing Christians. Or it is a stretch? Personally, I know that my day is not complete without his word and prayer.  I talk to him on and off all day.  I do not have much patience for the stuff that people are just in bits about. I have no control over the decisions that people make that may or may not impact my life but will impact someone else's life. But I know that YHWH knows all about those decisions. He lives on his throne and that gives me much peace.  Do you know and are you known by him? It is important that one knows the distinctive difference and takes the necessary steps to correct the course of one's life if the response is a negative one.
3 There brake he the arrows of the bow, the shield, and the sword, and the battle. Selah.  
Every time I see the word "Selah."  It tells us to pause and think about the things we have just read. The definition of se·lah /ˈsēlə,ˈsel-/ (in the Bible) occurring frequently at the end of a verse in Psalms and Habakkuk, probably as a musical direction.
God will always deliver his people.
Verse 4-6 Thou art more glorious and excellent than the mountains of prey. There is nothing more glorious than the splendour of a majestic bird in flight. And God's glory is more splendid than anything that we can imagine. [He] Who coverest thyself with light as with a garment: who stretchest out the heavens like a curtain: (Ps 104:2).The stouthearted are spoiled, they have slept their sleep: and none of the men of might have found their hands. Today we can talk about the powerful people of this world.  They are no match for the power and might of God.  2 Kings 6:15-17 talks about the opening of Isaiah's servant Gehazi.  He was afraid of the enemies that surrounded the city where they were living At thy rebuke, O God of Jacob, both the chariot and horse are cast into a dead sleep.  The Syrians were certainly cast into the sea of memories.  Hardly anyone talks about them now.
In our culture, we have a saying that states "You can't fight City Hall!"  The King of Syria learned that he could not fight the God who was known by the nation of Israel.
No one can stand before God.
7 Thou, even thou, art to be feared: and who may stand in thy sight when once thou art angry? 8 Thou didst cause judgment to be heard from heaven; the earth feared, and was still, 9 When God arose to judgment, to save all the meek of the earth. Selah. 10 Surely the wrath of man shall praise thee: the remainder of wrath shalt thou restrain. 
Matthew 10:28 "And fear not them which kill the body, but are not able to kill the soul: but rather fear him which is able to destroy both soul and body in hell."  The only fear that is permissible is the fear of God. That kind of fear is a wise one for all people. Where one spends eternity is hinged on that fear. There will come a time in the history of humanity when all people will fear the Lord. As we live and breath it is important for us to follow the edit written in Psalms 46:10. This psalm talks about being still and knowing God. "Be still, and know that I [am] God: I will be exalted among the heathen, I will be exalted in the earth."
The only way that stillness and knowing the God of Abraham, Isaac, and Jacob presents itself in our lives is to follow the directions of Romans 12:21
"Be not overcome of evil, but overcome evil with good." 
This scripture is a reminder of our roles as Christians. We live at a time when people feel that if it makes them feel good they should do it, type it, speak it, and be it.  We think that we are expected to agree with the verbalized thoughts and actions of popular figures.  The only person that should have that type of power over our lives is YHWH. 
I find the ending of this psalm interesting.  Why did the psalmist feel that it was necessary to remind the people that they should be paying "the Lord [their] God? What presents are being referenced in ver 11?
11 Vow, and pay unto the Lord your God: let all that be round about him bring presents unto him that ought to be feared. 12 He shall cut off the spirit of princes: he is terrible to the kings of the earth.
Reference
Longman, Tremper, III. Psalms: An Introduction and Commentary, InterVarsity Press, 2014. ProQuest Ebook Central, http://ebookcentral.proquest.com/lib/liberty/detail.action?docID=2033987.
Created from liberty on 2020-01-08 10:58:46.