Proverbs Chapter 24 #Relationships #Behavior  #Attitude #Parenting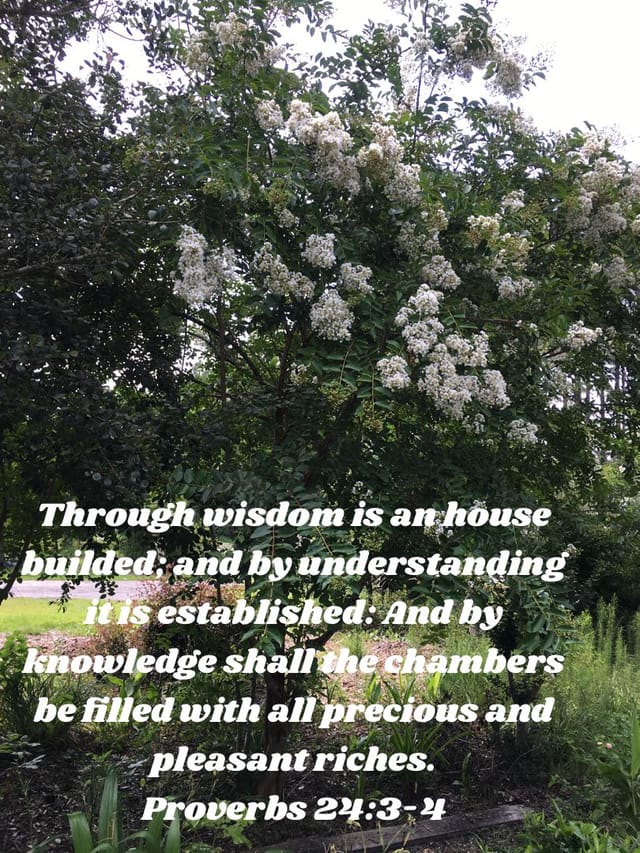 Contents
RELATIONSHIPS
Relationships With People
17 Rejoice not when thine enemy falleth, and let not thine heart be glad when he stumbleth:18 Lest the LORD see it, and it displease him, and he turn away his wrath from him.19 Fret not thyself because of evil men, neither be thou envious at the wicked;20 For there shall be no reward to the evil man; the candle of the wicked shall be put out.  Matthew 5:43-48 (NIV)  Reminds us to "Love for Enemies"  43 "You have heard that it was said, 'Love your neighbor[a] and hate your enemy.' 44 But I tell you, love your enemies and pray for those who persecute you, 45 that you may be children of your Father in heaven. He causes his sun to rise on the evil and the good, and sends rain on the righteous and the unrighteous. 46 If you love those who love you, what reward will you get? Are not even the tax collectors doing that? 47 And if you greet only your own people, what are you doing more than others? Do not even pagans do that? 48 Be perfect, therefore, as your heavenly Father is perfect. 44 But I say unto you, Love your enemies, bless them that curse you, do good to them that hate you, and pray for them which despitefully use you, and persecute you;
Attitude
9 The thought of foolishness is sin: and the scorner is an abomination to men. It is better to desire the Kingdom of God than to desire sin. We discussed sowing and reaping before.
10 If thou faint in the day of adversity, thy strength is small.  15 Lay not wait, O wicked man, against the dwelling of the righteous; spoil not his resting place:16 For a just man falleth seven times, and riseth up again: but the wicked shall fall into mischief. Remember Stephen and how he acted when faced with his upcoming death! He did not give in. So should we when we face challenging situations.
INTEGRITY/ACTIONS
1 Be not thou envious against evil men, neither desire to be with them. 2 For their heart studieth destruction, and their lips talk of mischief. 8 He that deviseth to do evil shall be called a mischievous person. There is no point in coveting what an evil person has. They are generally unhappy people who can sleep soundly.
11 If thou forbear to deliver them that are drawn unto death, and those that are ready to be slain; 12 If thou sayest, Behold, we knew it not; doth not he that pondereth the heart consider it? and he that keepeth thy soul, doth not he know it? and shall no the render to every man according to his works? In this day an age, no one can say that they did not know that what they were doing is wrong. the last 6 of the ten commandments and result in criminal actions being brought against us. Stealing is against the law. Lying under oath results in imprisonment. Adultery is a causal reason for divorce – even in the courts.
30 I went by the field of the slothful, and by the vineyard of the man void of understanding; 31 And, lo, it was all grown over with thorns, and nettles had covered the face thereof, and the stone wall thereof was broken down. 32 Then I saw, and considered it well: I looked upon it, and received instruction. 33 Yet a little sleep, a little slumber, a little folding of the hands to sleep: 34 So shall thy poverty come as one that travelleth; and thy want as an armed man. In the final analysis, a lazy person reaps what they have sown. Nothing from nothing bring nothing!
THE BENEFITS OF WISDOM
5 A wise man is strong; yea, a man of knowledge increaseth strength. 6 For by wise counsel thou shalt make thy war: and in multitude of counsellors there is safety.7 Wisdom is too high for a fool: he openeth not his mouth in the gate. Wisdom is valued and a crucial part of any decisions that a person makes. A king does not go to war without taking advice from his counselors.13 My son, eat thou honey, because it is good; and the honeycomb, which is sweet to thy taste:14 So shall the knowledge of wisdom be unto thy soul: when thou hast found it, then there shall be a reward, and thy expectation shall not be cut off. Wisdom and the acceptance of wise makes a wise leader's decision making as sweet as honey.